My life as an expat-nomad has helped me grow through diverse experiences, improving my personal confidence and capacity to adapt, make new friends, settle our family and build a sense of community wherever we go. I love connecting with people and helping people to connect with others in a positive and nourishing way!

I am especially thankful for a very close friend I've known since school, who has always been an inspiration to me. She has lived the life I've gone on to live, after birthing and raising children in different countries, she became a doula and has gone on to become a community midwife in London. During my first pregnancy she lent me 2 huge bags full of her favourite books related to pregnancy, midwifery, doulas and breastfeeding (which I devoured!). She then booked a flight to be my doula for my first baby, arriving the day he was born and staying for the first 5 days.

I don't think I will ever fully appreciate the long term difference she made by simply being with me. I am, however, eternally grateful: I feel blessed by her wonderful doula magic and have become inspired to carry her doula flame. She has been one of my lighthouses guiding me through different periods of my life, and, was the one who subtly dropped me the hint that I too have the makings of being a doula!

My journey through parenthood is proving as fascinating as it is enriching and challenging and I feel lucky to have the unconditional support from friends, doulas and people from all around the world.

A decade later, my doula dream has become a calling, my calling is patiently becoming a reality. I feel it has become a kind of destiny, a part of the whole that is me and I'm humbled to be travelling on this journey with so much to learn and so many amazing people to be inspired by!

Through motherhood I have discovered new self-confidence: to learn to be gently assertive, open-hearted, to know myself and acknowledge mine and others' imperfections - learnings quite often acquired through all the times 'mistakes' have been made and my kids' behaviours have puzzled me - true listening is very humbling!


I deeply care about people and believe everyone should be treated with respect and humanity. I think this feeling of being cared for and listened to can give you the space you need to process your thoughts and emotions and in turn this will affect how your baby experiences its welcome to the world and the start of your new life-long adventure together. A sense of safety and trust nurtures peace of mind and self-confidence which your body needs to do it's thing, easing the way for a potentially fulfilling and positive experience.

As now I have finally come 'home' near Basel, to the place my children were born, with patience and time new beautiful beginnings are arising.

If places could be considered a marinade for the person you are, I can count these as some of the salsa and relishes that make me: Tripoli, Brighton, Barcelona, Basel, Montreal, Ljubljana, the UK and France (various locations!).

I am a native English speaker and fluent in French and Spanish, I speak some German.
I am available to assist refugee women on a pro bono basis with no cost.

Fundamentally, I believe the language of kindness transcends all!

I believe that energy is an important force within and between all things and practice Qi Gong and Tai Chi... I feel the sense of grounding and channeling energy through meditative breath and movement has close connections with the birthing experience and can help create calming co-regulation patterns.
I feel immensely privileged and honoured by the encouragement of friends, doulas and individuals who share their belief that I have the essential qualities of a doula, that reassure me that as a volunteer I already 'doula the doulas', and I look forward to living up to their, and your, expectations.

I live in the '3land' quartier, where the Rhine embraces the city of Basel, Switzerland and then glides between Alsace, France and the Black Forest, Germany.

I am here, I look forward to hearing from you!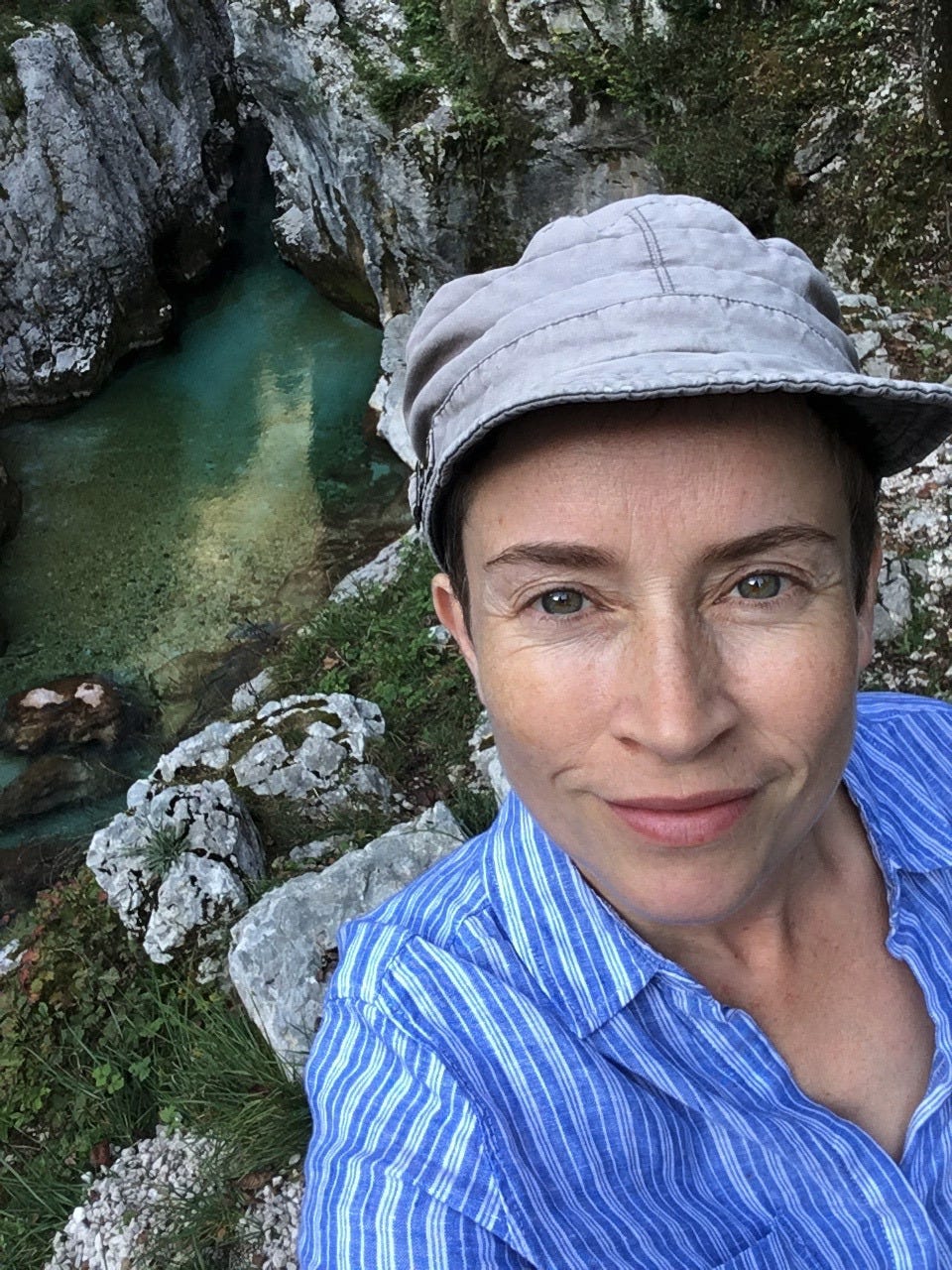 I won't tell you about my own births here: my story is mine, and your story is yours. Positive birth stories can be very compelling, especially when in our wider society the way birth is shown does not honour all the wondrous possibilities... Like many major experiences in life, I happened to find my pregnancies and births had their unique challenges and joys! All life lies on a spectrum of possibility and although orgasmic birth may be rare, it certainly exists! Like climbing a mountain, you will work hard both physically and mentally, but when you feel safe with the company around you and your decision-making is fully supported, the sense of achievement can be immense, whatever route you take!
Debbie Mitchell
Doula-related activities
I attended my first birth in 2019 in an amazing and rare 'double-doula' scenario with my doula 'marraine' ('god'mother), Dr Špela Peternel (PhD Biomedecine, DONA Advanced Trainer). The hospital was keen to encourage more doulas becoming active through the mentorship of a highly skilled and experienced doula. I found myself captivated during her childbirth education classes, which I attended following the DONA International Doula and Breastfeeding workshops, held in person with Elena Carillo, DONA Advanced Trainer.

Since 2020, during these challenging pandemic years of upheaval and change, I have dedicated a lot of my time to supporting the European Doula Network as an a Friend and Volunteer and now treasurer and one of three Core-Organisers with a number of roles to juggle. I feel blessed to work with amazing doulas, many of whom are pioneer doulas and doula-trainers in their own countries.

In 2020, for World Doula Week, I teamed up with Anita Budak to create and launch the first EDN Doula Survey which had over 600 responses from 21 countries. Summer 2020, in a team of 5 volunteer doulas we created and organised the first EDN Online Conference in September, inviting speakers on key doula topics including racism, disability, refugees, death, doula care and much more. I am now working with Špela Peternel on the results of our second EDN Doula Survey, which also counts responses from over 600 doulas.

In 2022 I created an EDN focus group committed to doing everything possible to share information to help Ukrainian doulas, some of whom I feel very closely connected with. The Doula Solidarity and Support hub I co-created with Ukrainian doulas helps facilitate local and Ukrainain doula support for refugees located in countries all across Europe. Resources are shared and accessible in the language of the country as well as other languages used by refugees to help doulas and birth workers best support vulnerable mothers-to-be and new mothers.

In 2023 I have been taking a key role in an EDN focus group with the goal of promoting doulas at a global international level with doctors and midwives. This project has brought around a wonderful collaboration between international doula organisations from Europe and both North and South America: ICEA, DONA International and Red Mundial de Doulas. I was honoured to be co-hosting at the three doula tables at the FIGO Doctor's World Congress in Paris in October 2023 and then taking part in the International Childbirth Initiative sessions. In the same week EDN colleagues will be promoting Midwife:Doula relations at Midwifery Today, Badwild Bad, Germany.

I am in regular contact with doulas in France (Grand Est and Yvelines), Germany (Black Forest) and Switzerland (North-West). I am a member of Doula Netzwerk Schweiz.

During recent years I have participated in Dreambirth and Hypnobirthing training, as I genuinely believe that there is a power in the harmony created when our mind and body get the opportunity to experience the sadly rare sensation of being one.

I have been working on my understanding and self-awareness through the 'Resiliency for Birthworkers' course and continue to improve my knowledge and practice of using the rebozo through further training. Breastfeeding is an area I have gained personal experience over many years and I am fascinated by learning the latest developments in the study of the infant microbiome. I practice Qi Gong and feel particularly drawn to the sense of calmness and vivid energy this creates.
I am curious about future training in trauma-informed care and as a Thana Doula (End of Life/Death Doula), being a doula will always be a life-long journey of discovery!